If you are not focusing your attention on-demand generation, then generating sustainable and effective leads may not be possible. At the same time, if the demand cannot be translated into leads, then demand generation will lose a lot of value. Thus, lead generation also plays a critical role.
Still, just because these two strategies have similar objectives does not mean that they are the same. This is a mistake that is often observed among marketers in the B2B marketing strategy industry. To cut it short, lead generation, despite being categorized under demand generation, is a different aspect that features its own tactics and skills.
We give a detailed explanation later in the article but put simply, demand generation refers to any activity that you do on your end that introduces your business, attracting potential customers to your products and/or services. Lead generation, on the other hand, refers to the processes that turn those potential customers into "leads", preparing them for the next part of your marketing strategy.
On a side note, if you want to learn more about creating leads from your website, check out our other article on building a high-performance lead generation website that converts.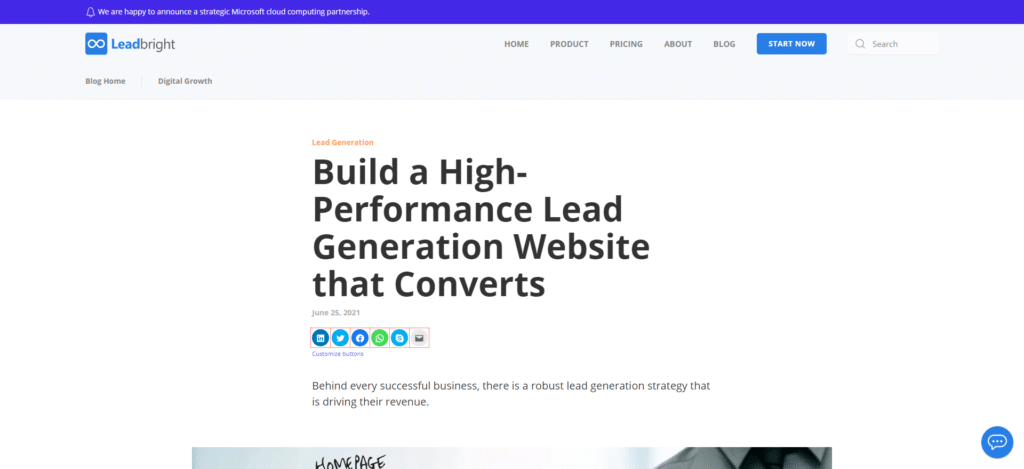 What is a demand generation?
The goal of a demand generation is to bring awareness to your product or service through marketing activities. A successful demand generation campaign uses different mediums to reach a qualified target audience, establish trust, and spark interest in what you have to offer.
What are common examples of demand generation campaigns?
Demand gen can take the form of inbound marketing as well as outbound marketing. A campaign could consist of both inbound and outbound strategies which could include:
Infographics
Content syndication like blog posts
Resource pages
Press releases
Videos
Slideshares
Social media posts
Free tools
Interviews and podcasts
Case studies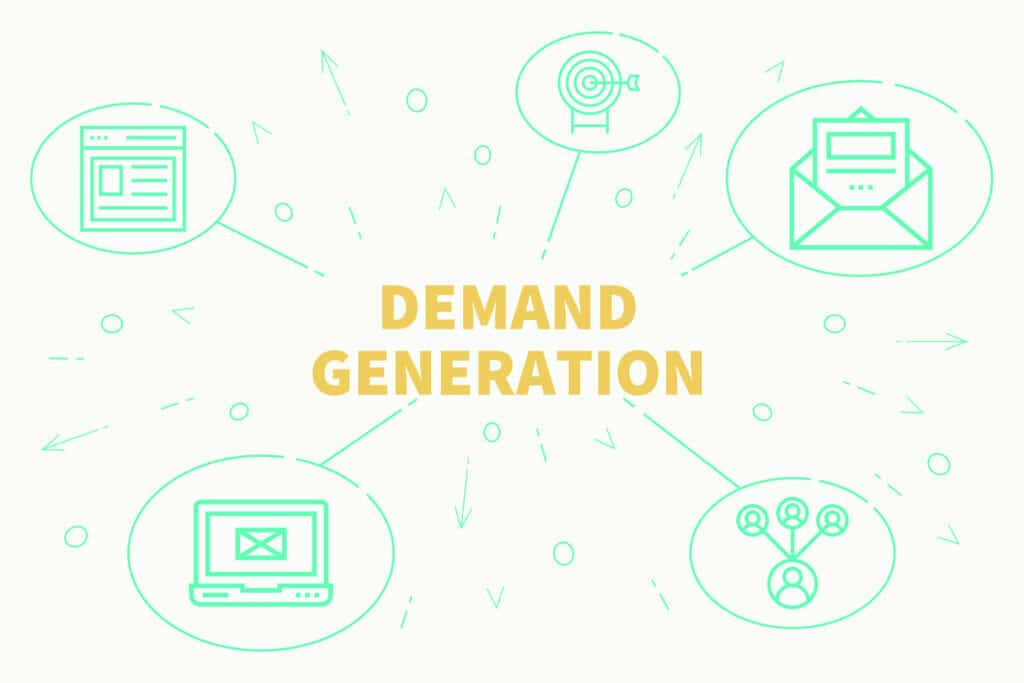 It is vital to take note that demand generation is not just a game of wait-and-see. Rather, the goal of demand generation marketing is to get your product or service in front of your potential customer through various marketing activities. and show how important or useful your product is to their pain point. and to seek them out, providing them with targeted offers and/or content. Here are common examples of demand generation campaign strategies:
These content options are available for free to attract the attention of new and potential customers. At this point, your target audience is not yet expected to provide their contact information with any demand generation strategy to access the content that you have provided.
What lead generation means
Lead generation, or lead gen, refers to the process of transforming potential customers into actual, high-quality leads. It is a method that allows you to attract potential buyers of your products or services, encouraging them to buy. The output is finding leads that are qualified for your business so that a salesperson from your team can do a follow-up on a customer.
Simply put, the process looks like this.
High-quality lead generation usually involves the creation of gated content, and later on, inquiring about an individual's content information so that they can avail of a piece of content. Among the different types of lead generation include the following:
Free trials
Courses
Product demos
Email subscriptions
Events
Viral contests (where participants are required to enter their contact information to join)
Usual types of gated content (in the form of PDF, eBook, cheat sheet, checklist, whitepaper, etc.)
For an individual to have access to these types of content, they need to enter their contact information (with email as the most popular example).
Why lead generation is best effective?
Lead generation is often viewed as best effective because it can come in several forms. With proper planning and implementation, it is possible to execute lead generation without any hassle.
Because of the effectiveness of lead generation, many companies have seen improvements in their output, and as such, have decided to prioritize lead generation as part of their marketing strategy. This is what statistics have to say.
For example, according to a report from BrightTALK, 53% of marketers actually use about half of their budget in order to focus on lead generation.
Also, Ziff Davis reports that leads have the capacity to convert up to 9x, especially when businesses follow up within five minutes. Rapid follow-ups are made possible by automation, which is currently being done by companies as well.
What are the types of lead generation?
Lead generation can come in the form of the following:
eBook
An eBook is a good start for your lead generation approach. Most eBooks cover a wide range of topics in your specific industry, thus allowing you to promote it in different blog posts within your site. It is also one of the most common lead generation concepts available these days.
Webinar
Hosting a webinar is another way to gather contact information from a target audience. As such, it is also considered one of the most successful lead generation strategies. Most successful webinars involve the participation of industry experts. Before being able to participate in a webinar, attendees will be required to sign up ahead. Some software options are available to help you start in this lead generation move, including Demio and WebinarJam.
Content Upgrade
This type of lead generator works by enticing people to enter their contact details in exchange for a content upgrade. In contrast to that of a more basic eBook, a content upgrade offers specific information on particular blog posts.
A content upgrade as part of your lead generation attempt offers an increased signup conversion rate because the posts or content is related closely to the blog post that a person is already reading.
What is the difference between demand generation and lead generation?
Aside from understanding the difference between demand generation vs. lead generation, another term can also make the differentiation trickier – customer acquisition. This is often interchanged with demand generation. However, understanding this term also matters.
The process of customer acquisition involves bringing in and attracting new customers to patronize your business. This involves introducing the customers into the marketing funnel, starting from brand awareness, up to making a purchasing decision.
As such, it is safe to say that customer acquisition is a form of demand generation. They have the same goal and offer the same strategies. Customer acquisition and demand generation could result to lead generation.
In simple terms, customer acquisition in the form of demand generation refers to the process that introduces your business to your target market, telling them what you are selling/offering, thus creating a demand of potential buyers. On the other hand, lead generation refers to the actual process of transforming that interest into contact details and names that you can follow up with. Demand generation and lead generation are two aspects that are often viewed as one but are different in their purpose.
How do demand gen and lead gen complement each other?
Demand generation focuses on the prospects, creating interest and the foundation of their awareness. It lets your target a digital marketing audience and let them know that you have something so amazing, different from anything out there and can actually solve their problem or pain point. Alternatively, lead generation generally comes in more after they start trusting in your brand, which can come from demand gen campaigns. So in short, demand generation raises awareness of your product, while lead generation brings in paying customers.
Regardless of if you are creating lead generation strategy for your startup or some other product, you need to also focus on the activities that increase awareness and demand since they fit so nicely together.
For example, let's say you have created a B2C buyer persona already and know that they really do a lot of research before making a purchase, especially on YouTube. So maybe your demand generation effort could focus around content marketing, specifically YouTube videos on niche informational content away for free. As you grow an audience with your demand generation content, you can plug lead generation content within those videos such as a strategy guide download or a free consultation.
This additional content is gated on your website, meaning that it behind a contact form. When they enter in their information to access the content, you have successfully created a lead and can get them one step closer to the sales funnel.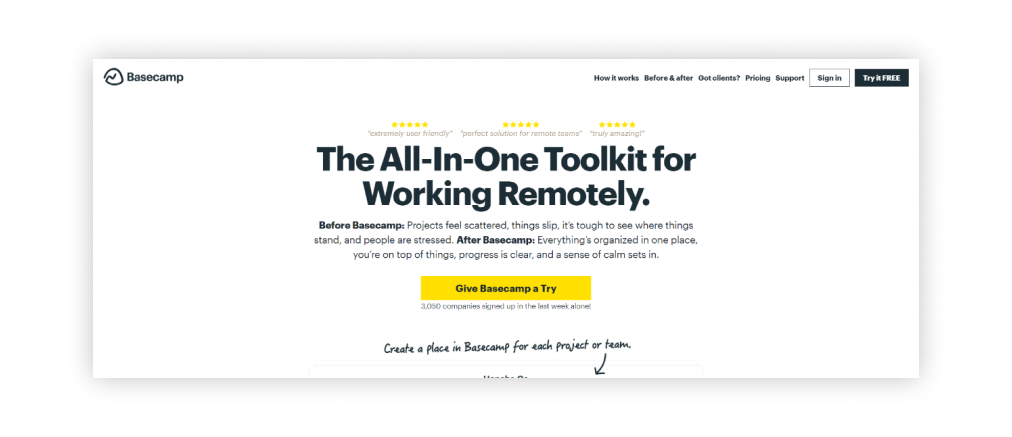 As you can see, demand generation and lead generation work hand-in-hand to make your business achieve its utmost potential through brand awareness and content marketing.