People today are busy, so customers value convenience as much as proficiency. Every UX professional who wants to maintain a thriving and loyal customer base needs to serve an unforgettable experience that actually makes a difference. 
User Experience, What's That?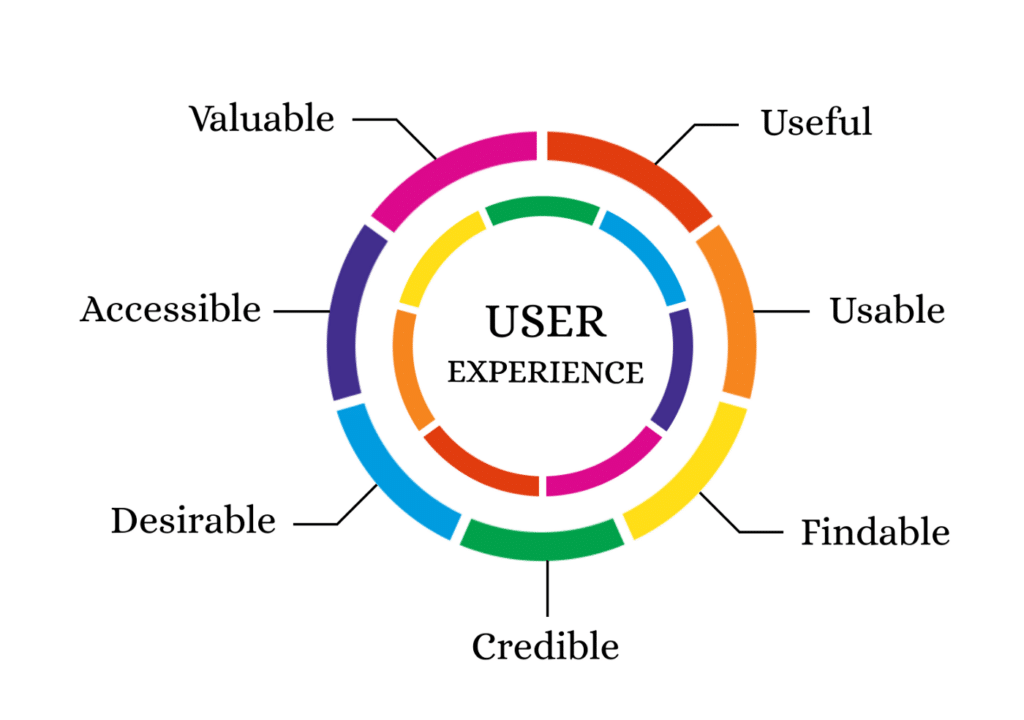 Simply put, user experience includes every interaction a customer has with your brand. From the initial consultation to their experience with the product and the post-sale service, everything comes under user experience.
Moreover, it also includes the ease with which your customers can communicate with you and discover your service.
What Is the Role of User Experience?

The ultimate goal of a well-designed user experience is to improve customer relationships and overall experience with your product and service.
Here's a detailed overview of the importance and role of user experience for every brand:
1. Helps You Close Deals
Since customers these days have so many options, even the slightest hurdle can push them away to a different brand. That's why you have to ensure that each stage of their buying process goes by smoothly. The better the experience you can provide right from the beginning, the higher your chances of successfully closing the deal.
2. Improves Customer Retention
A better user experience helps you keep your customers. If your customers run into a problem every now and then with your product or service, or if they don't receive seamless support from your company, they'll start to look for other options.
3. Improves Your Brand Image
Irrespective of whether your brand is an impressive or terrible service, the word always seems to get out. If you have a seamless user experience, your customers will be more likely to recommend you to friends and colleagues. On the other hand, if you've garnered a bad reputation over the years, the unhappy reviews and customer stories will someday creep up and push away new customers who were initially interested in shopping with your brand.
What is UX Design?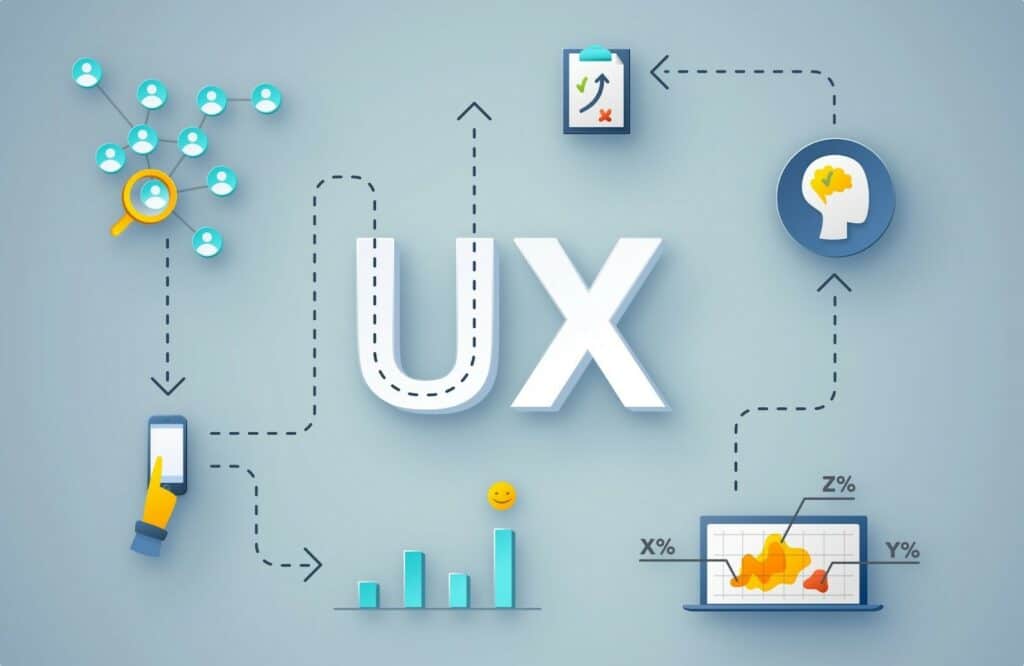 UX or User Experience design is the framework that consists of all the elements and aspects that'll affect the user experience of your potential leads.
For example, if you're working on the user experience of your website visitors, then UX design will focus on the ease of navigation, menu placement, readability, and website loading time. The purpose of your UX design should be to make every interaction and action taken by your leads in the website effortless.
Note that UX design is a dynamic process that will and should keep evolving with the growing needs of your customers. You need to ensure that you're always meeting their experience expectations better than your competitors are.
What Does Good UX Mean?
A good UX means the ability to cater to your customer's problems and needs with minimal hiccups. UX is more than just the usability of your product; it encompasses the entire buying system, service, interactions, onboarding, adaptation, and customer support.
Hence, when you're focusing on improving the UX of your brand, you can't just focus on the product. You have to focus on each department and the units of those departments that'll come in contact with your customers.
Usability vs. User Experience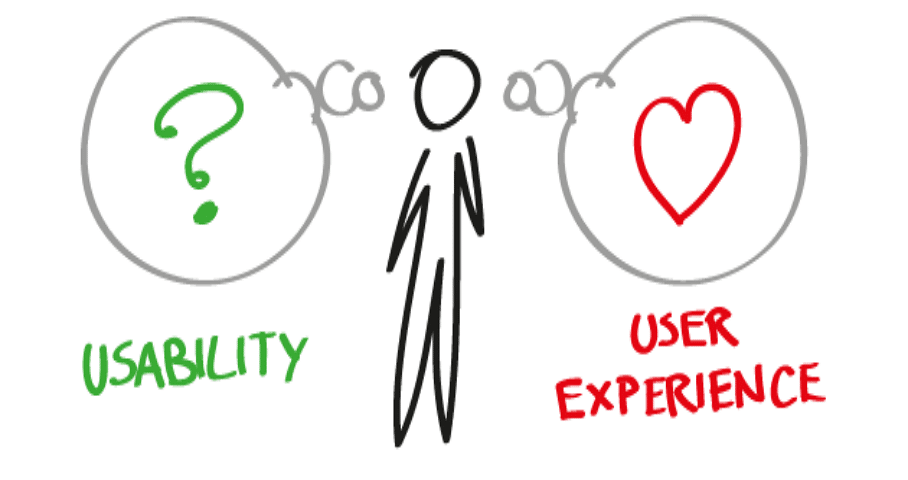 User experience and usability are often used interchangeably, but these two terms stand for two totally different concepts.
Usability simply refers to the ease of shopping with you, using your product, and getting assistance from you. It's undoubtedly an important part of the user experience you're selling.
The four elements of usability are:
Functionality: The product's ability to perform its primary job
Learnability: The product's ability for a customer to use it without undergoing any formal training
Flexibility: The product's ability to offer more than just its primary purpose
Industry Design: An appealing and engaging structural and functional design
User experience, on the other hand, is a much broader concept that involves the value you add to a customer's life, accessibility of your products, the quality of relationship you build with them, and how kind and affectionate your communication is.
The four elements of UX are:
Usability: The product's ability to make tasks easier
Adaptability: It measures if the product is built to help people adapt to it
Desirability: It measures if the experience the product offers is desirable
Value: The value that the product is adding to your customer's life
UX Elements Every Product Needs for Success
UX design includes multiple elements and features that together, offer a smooth experience to your customers. Here are a few UX elements that your product must have:
1. Frictionless Functionality
Your customers buy your product or service to solve their problem, so they certainly don't want any additional problems with the solution itself. That's why you need to design a product that offers uninterrupted service. Otherwise, your customers may turn to a different brand that offers a better experience.
2. Relevance
A good UX design is a constantly evolving element, and you have to keep up with the changing demands of your customers. That's why you need a dedicated team that keeps an eye on the problems that pop up. Moreover, the team should also look for ways to improve the existing user experience you offer.
3. Consistency
A good experience shouldn't be a one-off benefit that you offer to your customers. In fact, it should be deep-seated across all dimensions of your company and be the mantra that all your employees measure their work by. Every customer interaction, including post-purchase support, should be flawless.
Benefits of a UX Design Process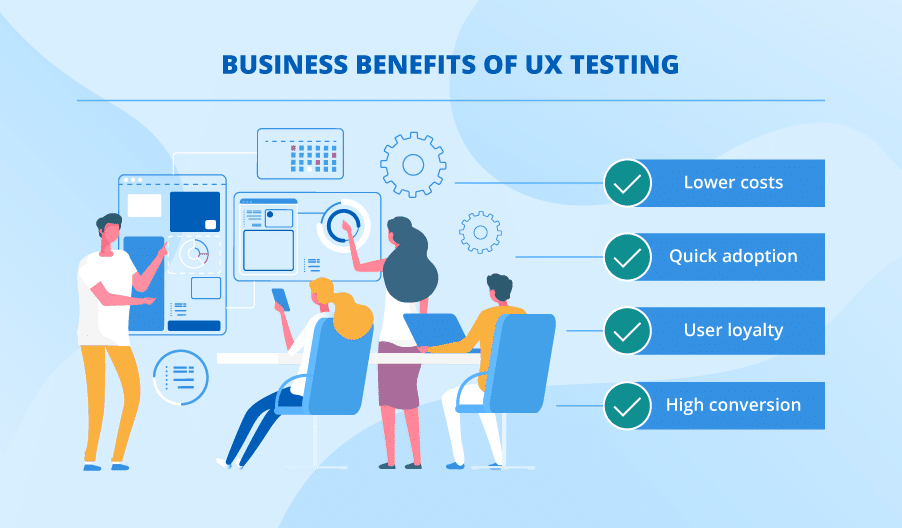 Before you put your foot down on the pedal and start designing the perfect UX for your customers, it's crucial that you assess the benefits you might get out of it.
Here are three ways in which building an effective UX design can help your business thrive:
1. Customer Acquisition & Retention
This is perhaps the number one benefit of designing a great user experience for your customers. Research shows that 88% of the users won't return to a company after just one bad experience with it.
This means that no matter how much you invest in acquiring a customer through planned marketing and selling strategies, it'll only take one bad experience (maybe due to flawed UX design) to lose a customer forever.
2. Improves Engagement
Dead leads bring zero value to your company regarding revenue and exposure. For virtual services that operate through apps and websites, customer engagement is one of the most important parameters to measure the effectiveness of each business strategy.
So, how does UX experience affect customer engagement?
Research shows that 39% of users will stop engaging if an image doesn't load on time. Moreover, if you don't improve on this and leave the problem unattended, they might even drop you as their service provider.
3. Increased Revenue
A better UX design will help you attract and keep more customers, which will pump up your sales numbers and add to your revenue.
Are you wondering if the percentage growth in revenue is worth the investment in UX design?
According to research, for every $1 that you invest in UX design, you get a return of $100–an ROI of around 9900%. No other business investment can give you an ROI this high!
Segments Involved in Creating User Experience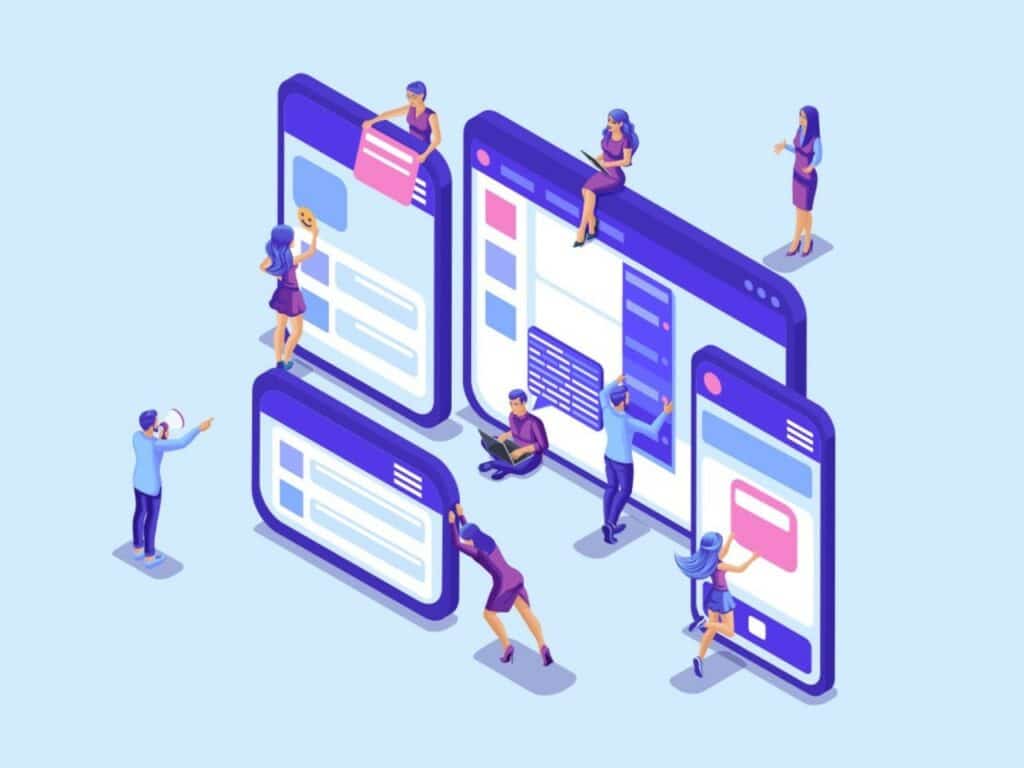 Designing a seamless UX isn't a one-person job! It requires equal contribution from all the stakeholders.
Here are the different company segments involved in the UX design process and their contribution to the process:
1. Marketing
Effective marketing is the ultimate tool that introduces your business to new customers. Hence, along with promoting your service, your marketing team also needs to focus on the UX design of each campaign to make a lasting impression on each lead. This includes frictionless communication, well-defined Call-to-Action (CTA), and guiding your customer to the next step.
2. Selling
Once the customer shows interest in your product or service, it's time to focus on creating a hurdle-free buying process. Your UX designer should focus on creating a good user experience that makes the product more desirable. When the customer goes through the buying stage, they shouldn't be put face-to-face with anything that can make them question your brand.
3. Product Development
Your product is at the center of all this, both for your company and the customers. Your US designer and product manager should be skillful enough to create a well-equipped, efficient, and error-free product. They should also focus on the product's feasibility in maximizing your customers' benefits.
4. Customer Service
While successful marketing will boost your sales, it's a reliable customer support department that'll help you keep your existing customers. Here, the UX design will include the responsiveness of the department, their ability to help your customers, and the effectiveness of the solutions they provide.
What Should Be Included in The UX Design Process?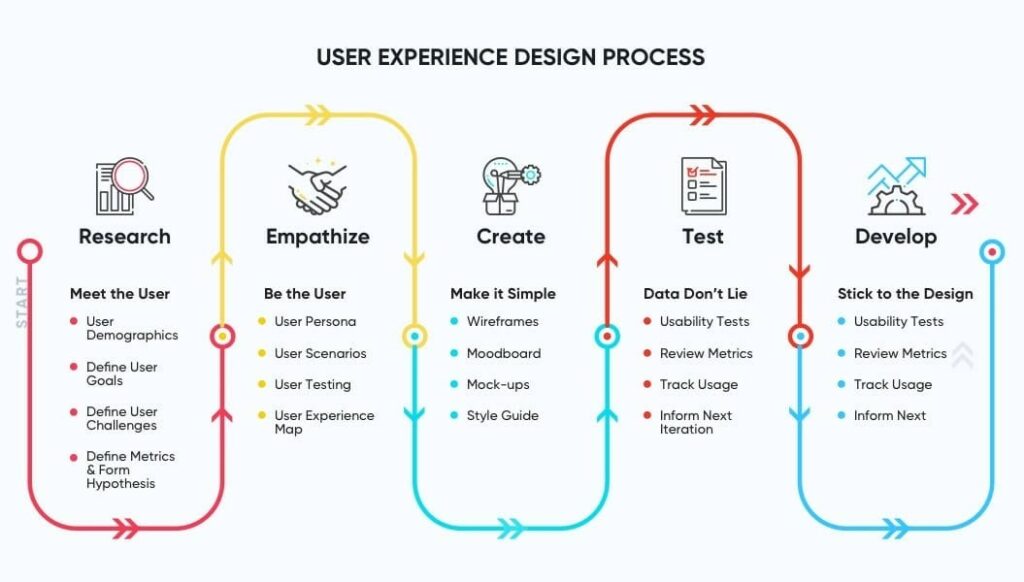 The most important part of building a successful user experience design is researching the market, understanding your customer's needs, and laying down the entire framework of potential customer interaction.
Here are the things that you must include in the UX design process:
1. User Research
To meet your customer's expectations, you need to understand their user behavior. And the only way to do that is through in-depth user research. Your UX researcher should design your ideal client profile and research their top priorities, pain points, needed solutions, and user needs.
You can also research your existing customers using tools like Mouseflow. This tool allows you to record a customer's journey on your website to see what problems they're facing and which part of your website is making them leave.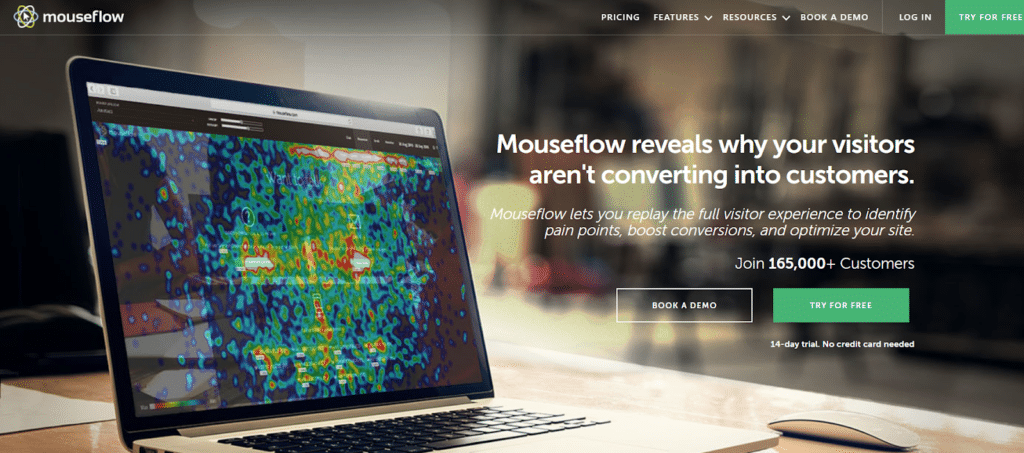 Once you create your free account, you simply need to enter the website URL you plan to track.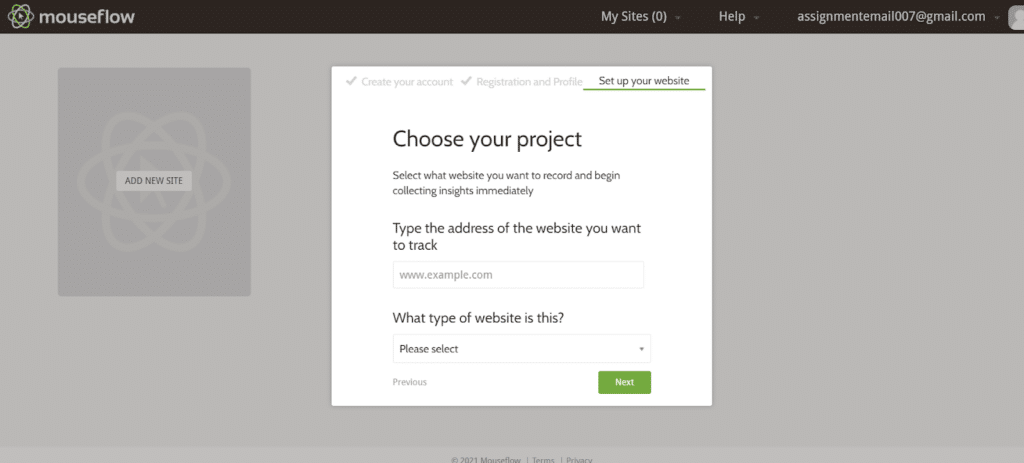 This will create heatmaps of your pages as well as show you screen recordings of all your website visitors. This is huge when it comes to figuring out where the best UX changes need to come from.
2. User Surveys
In some cases, qualitative research isn't enough. You'll need numeric data to zero in on your areas of focus. That's why most companies these days opt for user surveys to interact with real clients to know more about their problems and requirements.
3. UI design
The UI design will be based on the research and survey stage data you find. A good UI designer should make your product easy to use, intuitive, responsive, and equipped with cutting-edge features that simplify the solution.
For example, an excellent graphic design will keep your customers hooked and simplify navigating your website or app.
Software like Figma makes collaborating with your entire team and designing the interface live on software possible and easy.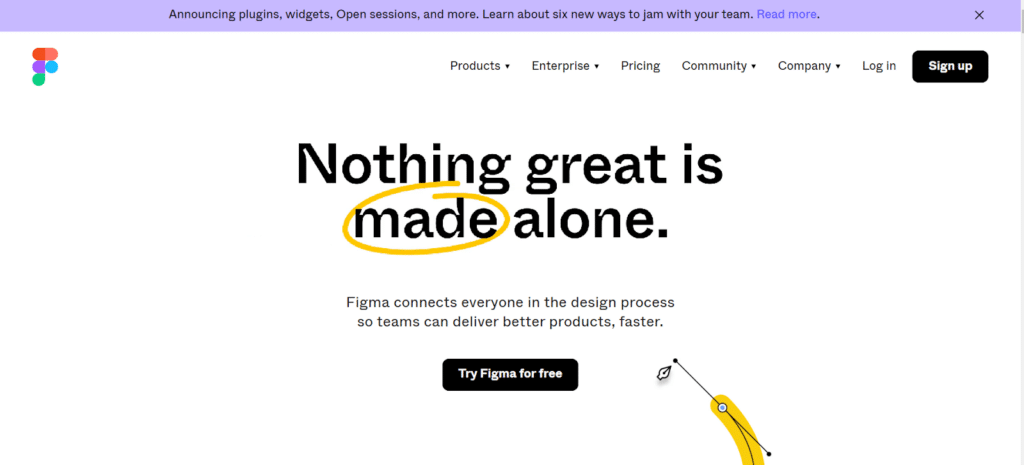 Moreover, they also offer a free plan that allows them to test their platform.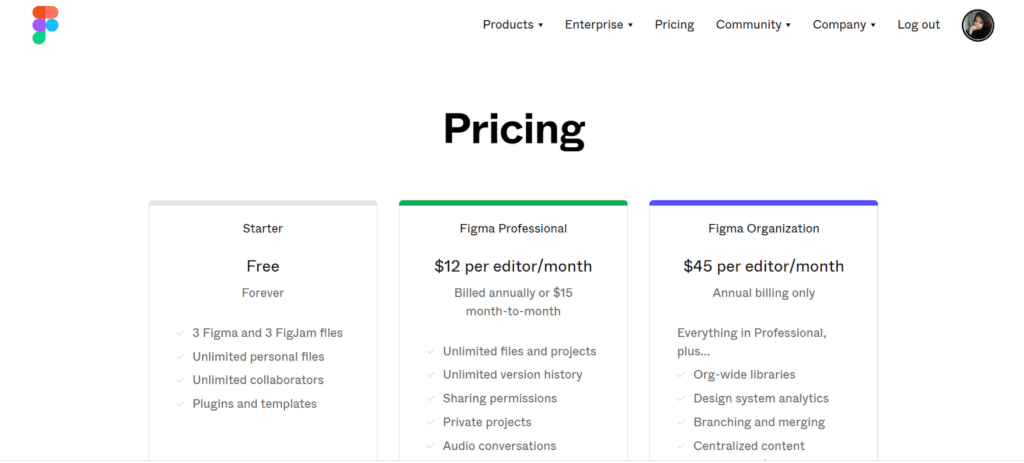 Once you have an account, simply head to your dashboard and start designing your interface.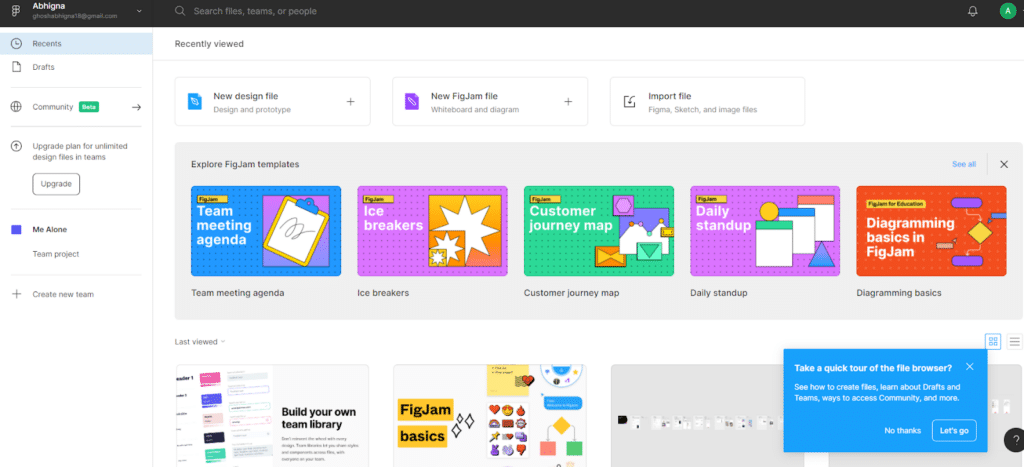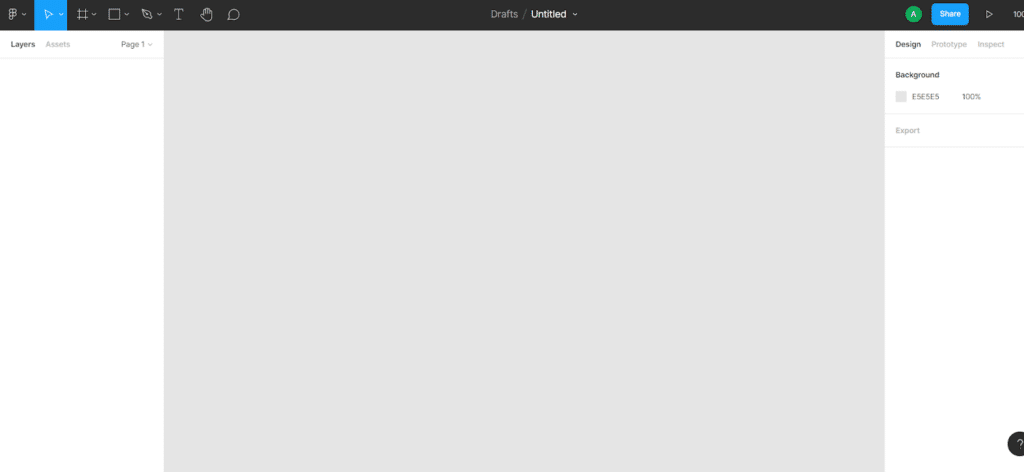 4. Interaction Design
Interaction design includes your customer's experience when they interact with your product. Your product development department and interaction designer's responsibility are to ensure no obstacles in using the product. Again, a tool like Mouseflow can help here as well.
5. Design Patterns
Design patterns refer to the reusable components of the UX design that helps your customer perform a particular task.
For example, a breadcrumb design pattern will improve customer interaction and navigation by allowing your customers to backtrack to the pages they've already navigated through.
6. A/B testing
Before implementing the UI design on your website, you need to test it out and see if it's actually working the way you expected. The best way to gauge that is through A/B testing.
In this test, you'll be offering two different versions of your webpage to different users and checking which one gets a better response. This simple user testing and feedback mechanism will help you differentiate between the elements that simplify the user interface and experience and the elements hindering it.
Use sites like UserTesting to get feedback on your user interface. They offer a paid service to conduct tests and interviews among real users to see how they respond to your product.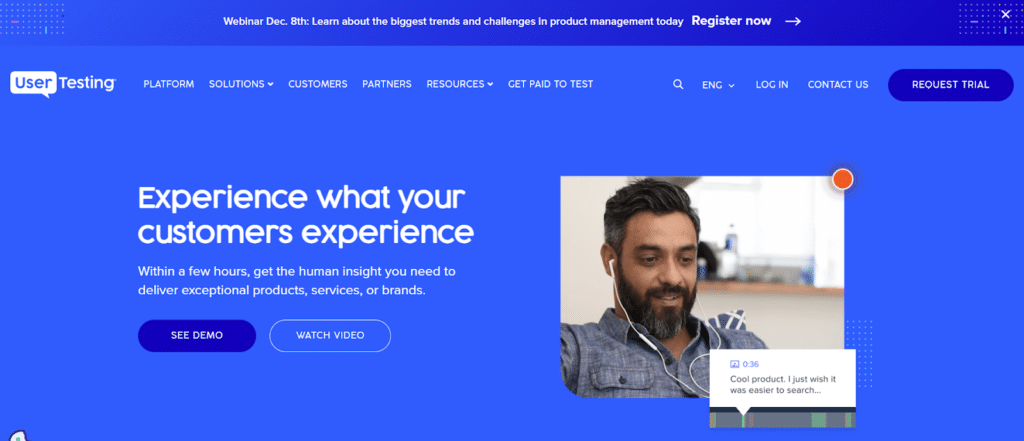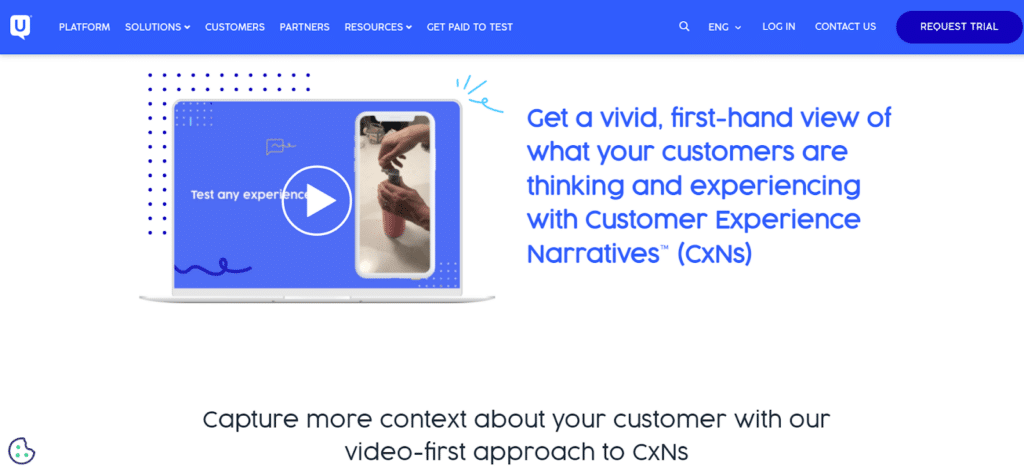 They don't have a free plan, but you can request a free trial.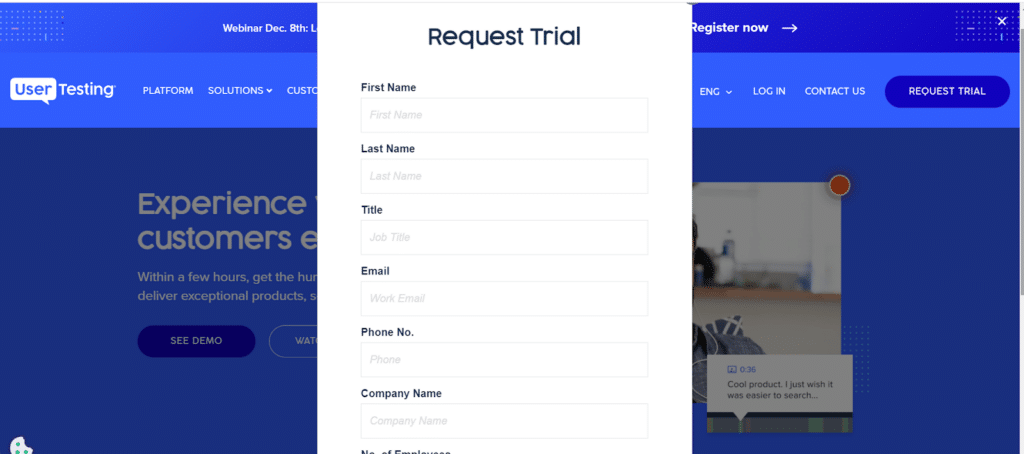 7. User Flows
UX is not limited to a particular customer interaction stage. It encompasses the entire journey that a customer will go through with your brand. The path that a customer traverses on your website to reach the final destination is known as user flow.
So, starting from the first query to the purchase point, your UX and interaction designer needs to chalk out everything and build a user-centered design surrounding this journey.
8. User Journey and User Journey Map
An easy way to design your customer's journey on your website or app is to design a user journey map. This map will act as a visual representation of the user flow starting from discovery. Having a visual design will help you recognize any potential improvements you can make to help your customer find everything they're looking for easily.
Final Thoughts
Customers these days demand more than just a good product; they need a holistic experience. That's why a good user experience & UX design is indispensable for successful sales and business growth.
Whether you're selling a digital product or a physical one, you should focus on curating the best-in-class customer experience for each of your clients. Interest them with your marketing, keep them hooked with your UX, and keep them coming back with your service!