Leadbright's selection to participate in this year's program marks a major milestone for the company. Being part of this prestigious program not only provides Leadbright with access to some of the top minds in technology but also puts them on a platform that could potentially take their business further than ever before. It's an amazing opportunity and one that will no doubt help Leadbright reach its greatest potential.
This announcement is sure to be exciting news for everyone who has been following Leadbright over the years. The selection process was no easy task; out of thousands of applicants, only a handful were chosen to join this exclusive program. Congratulations are certainly in order for Leadbright on this remarkable achievement!
Overview Of Collision Conference
Collision Conference is an annual tech conference that takes place in Toronto, Canada. It runs June 26-29, 2023 located at Enercare Centre. It's the largest tech event in North America and brings together the world's leading startups, investors, and Fortune 500 companies. Since its inception in 2013, Collision has grown to become one of the most influential events in the tech industry. The event features keynote addresses from notable figures and panel discussions on topics ranging from entrepreneurship to venture capital.
The conference also provides a platform for startups to showcase their products and services to potential investors. Attendees have the opportunity to meet with key players in the industry, network with other entrepreneurs, and explore new business ideas. Collision also hosts a Startup Alley where up-and-coming companies can display their products and services.
Every year, Collision selects a group of promising startups for its Alpha Program. These startups receive valuable resources such as mentorship opportunities, access to venture capitalists, media exposure, and dedicated workspace at Collision Conference. This year, Leadbright was selected as one of these elite startups for the 2023 program.
Alpha Startup Program Overview
Building upon the foundation of the Collision Conference, Alpha Startup Program was launched in 2023 to help startup companies reach their full potential. This program is designed to provide early-stage startups with world-class resources and mentorship through a series of workshops, talks, and other activities.
Leadbright has been selected to participate in this prestigious program as one of its featured companies. The selection process was highly competitive, and Leadbright was chosen based on its innovative products and inspiring mission. Through Alpha Startup Program, Leadbright will be able to network with industry leaders and gain valuable insights into the startup industry.
Participation in the Alpha Startup Program gives Leadbright an opportunity to show the world what they are capable of achieving and accelerate their growth even further. With access to a wide range of resources and guidance from experienced professionals, Leadbright is confident that it can make meaningful progress towards its goals.
Leadbright's Qualifications
Leadbright is a cutting-edge software company that specializes in developing innovative solutions for businesses. The company has consistently created products and services that have helped businesses increase their efficiency and productivity. This commitment to innovation has enabled Leadbright to be selected for the Collision Conference 2023 Alpha Startup Program.
Leadbright's LOOP OMB (Organic-Based Marketing) platform uses big data, AI and Machine Learning to provide business intelligence to companies to grow lead generation, demand generation and revenue. Leadbright has partnered with Microsoft to provide its LOOP platform on AppSource and Azure Marketplace.
LOOP shines with ease of use and simplification of big data. Saves weeks of manual analytics work thanks to its use of AI, and machine learning to provide faster actionable tasks. LOOP reduces costs and boosts marketing at a fraction of a cost, which is equivalent to having 4 analytics and data experts 24/7. As an always-evolving platform, LOOP's AI is constantly adapting and learning to get ahead of industry trends.
The Collision Conference 2023 Alpha Startup Program is an excellent opportunity for Leadbright to showcase its innovative solutions to a wide audience. With this prestigious invitation, Leadbright will be able to further demonstrate its commitment to creating products that are not just technologically advanced but also intuitively designed for users. It is this dedication to excellence that has allowed Leadbright to stand out amongst its peers and be selected for this program.
Benefits Of Joining The Alpha Program
Leadbright's selection to the Collision Conference 2023 Alpha Startup Program presents a great opportunity for the company. Joining this program will provide Leadbright with access to invaluable resources, knowledge and connections that will be key in helping them grow as a business.
First, Leadbright will have an opportunity to take part in workshops and seminars organized by the conference. These will provide valuable insight into emerging technologies and industry trends, allowing Leadbright to gain a better understanding of their market and customer base. Additionally, they'll have access to mentors and experts who can help guide them through their journey as a startup.
The program also offers Leadbright the chance to network with other startups attending the conference. This gives them a platform to exchange ideas, share experiences, find potential partners or even investors. This can be incredibly beneficial for Leadbright as it increases their visibility among other businesses in their space, which can lead to more opportunities for growth and collaboration.
Being part of the Alpha Program is also beneficial for Leadbright's reputation as an innovative business. By showcasing their products and services at the conference, they demonstrate that they are serious about their work and are dedicated to pushing boundaries in order to produce groundbreaking solutions for their customers. This could be an invaluable asset when it comes time for Leadbright to attract new customers or partnerships.
What Is Included In The Alpha Program?
The Alpha Program at Collision Conference 2023 is a unique opportunity for select startups. Leadbright has been chosen to participate in this prestigious event and make the most of its resources. The program offers a range of features and benefits that can help lead to successful business ventures.
First, upon acceptance into the Alpha Program, Leadbright will be provided with access to one-on-one mentorship from experts in the field. This will give them an invaluable opportunity to gain insight from experienced entrepreneurs and industry leaders. Additionally, Leadbright will have access to exclusive networking events and workshops designed to help them build meaningful relationships with other startups and potential investors.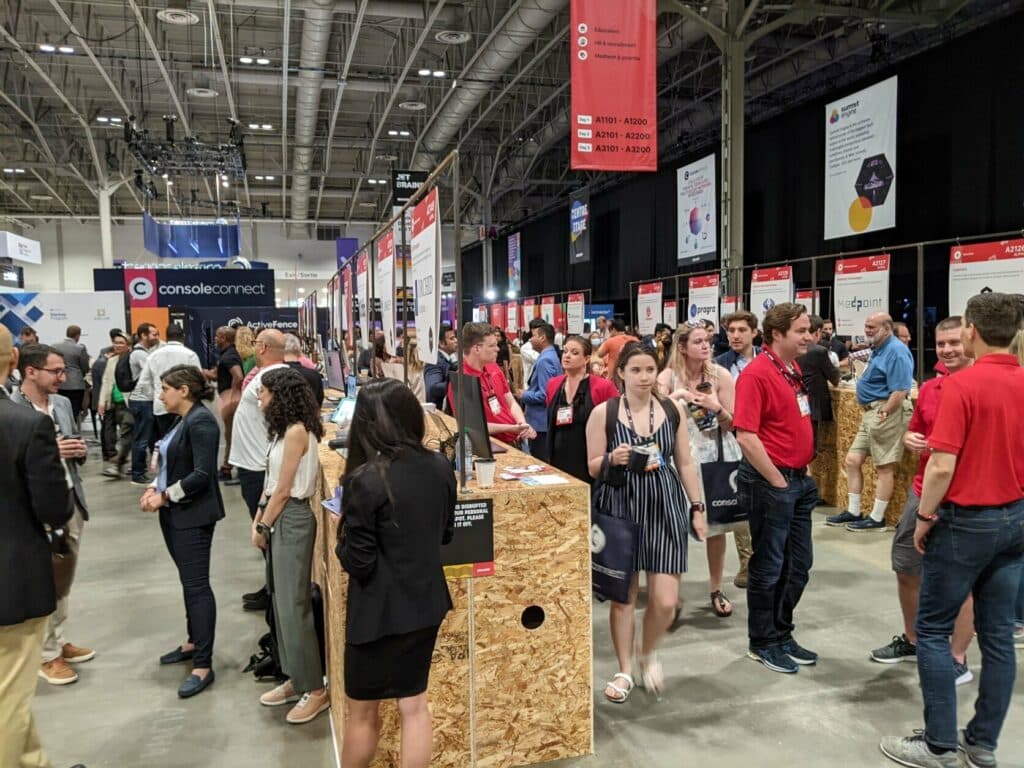 Leadbright will also receive promotional exposure at Collision Conference 2023, through inclusion in press releases, marketing materials, and digital channels. This degree of visibility could help them attract more attention from potential customers or partners who may be interested in their product or service offerings. Furthermore, they'll have access to a suite of resources specifically tailored for startups, including pre-conference training sessions, pitch coaching opportunities, and experiential learning activities.
The Alpha Program at Collision Conference 2023 provides Leadbright with the resources necessary to launch their business into success. Through this program they'll receive specialized mentorship, exclusive networking events and workshops, promotional exposure, pitch coaching opportunities as well as pre-conference training sessions and experiential learning activities – all valuable components for any startup looking to accelerate their growth.
How To Apply For The Alpha Program
Now that you know what is included in the Alpha Program, it's time to discuss the application process. Applying for the Alpha Program is a simple process but requires some important steps.
First, you must submit your application online and provide all requested documents. The information you provide will be reviewed by Collision Conference to ensure that your company meets their criteria for participation in the program. Once accepted into the program, you will receive an invitation to join and participate in various events and activities throughout the conference.
Second, if your application is accepted, you will be asked to sign a contract with Collision Conference outlining all of the terms and conditions of your participation in the Alpha Program. This includes a commitment fee that must be paid before your attendance at the conference is confirmed. Additionally, you may be required to provide additional information such as company updates or presentations prior to attending.
Finally, once all requirements are met and your contract is signed, you will receive confirmation of acceptance into the Alpha Program for Collision Conference 2023. Congratulations! You can now look forward to networking with other startups and innovators from around the world as part of this exciting opportunity!
Timeline And Expectations Of The Alpha Program
We're thrilled to announce that Leadbright has been selected for the Collision Conference 2023 Alpha Startup Program! As part of this program, we'll be given access to resources, training and connections that will help us take our business to the next level.
As part of the Alpha Program, we'll receive mentorship from experienced entrepreneurs and industry experts. We'll also have access to exclusive networking opportunities that will give us an edge in the competitive startup landscape. Additionally, we will be able to attend workshops and seminars designed to equip us with the knowledge and skills necessary for success.
The program is set to begin in June 2023 and will run for 3 days. During this time, we'll be expected to actively participate in all of the activities offered by the Alpha Program. This includes attending events and participating in group discussions. We're confident that by taking full advantage of this incredible opportunity, Leadbright will be well positioned for long-term success in a highly competitive market.
Success Stories From Previous Participants
Collision Conference 2023 Alpha Startup Program has already seen success stories from past participants. Leadbright is joining a list of startups that have gone on to become leaders in their respective industries after participating in the program. Companies such as Uber, Trello, Hired, OnePlus, Wise and many were all Alpha startups.

Leadbright can look forward to similar successes as these past participants if they choose to take advantage of this opportunity presented by Collision Conference 2023 Alpha Startup Program. With valuable insights, access to potential partners and investors, and personalized mentorship, Leadbright will be able to make an impactful mark on its industry.
FAQs About The Alpha Program
The Alpha Startup Program at Collision Conference 2023 is an exciting opportunity for early-stage startups. Leadbright has been selected to participate, and we're thrilled to be part of this prestigious event. With that in mind, there are a few questions people may have about the program and what it entails. Here are some of the most frequently asked questions about the Alpha Program.
First, what is the duration of the program? The program will run for three days, starting on June 26th and ending on June 29th. Participants are expected to attend all three days in order to get the full benefit of the experience.
Second, what types of support can participants expect? During the duration of the program, participants can expect workshops, mentorship sessions with industry experts, access to investors and financial advisors, as well as a platform to showcase their products and services.
Finally, what is required to apply? Applicants must submit a complete application package which includes a business plan outlining their goals for participating in the program, as well as any other relevant documents or materials that demonstrate their innovation and commitment to success. Once an application has been reviewed and accepted by Collision Conference 2023 organizers, participants will receive an acceptance letter detailing any additional information needed for participation.
We're excited about being selected for this amazing opportunity and look forward to seeing everyone who applies!
Frequently Asked Questions
How Many Alpha Program Participants Are Selected Each Year?
In most cases, the selection process for the Alpha Startup Program is highly competitive and exclusive. A variety of factors are taken into account when determining which startups get accepted, including industry experience and overall innovation. As a result, only a select few are chosen each year out of thousands of applicants from across the globe. Furthermore, those who do make it through the selection process typically come from a variety of backgrounds and countries.
It's clear that getting accepted into the Collision Conference 2023 Alpha Startup Program is no small feat. With such limited spots available and all participants being required to meet a certain standard of excellence, it's safe to say that very few achieve this honor each year. Regardless, those who do get selected can feel proud knowing they stand among some of the most innovative minds in their industry today.
Are There Any Financial Benefits Associated With The Alpha Program?
The Alpha startup program run by the Collision Conference is a great opportunity for startups to gain visibility and exposure to industry professionals. One of the major questions that potential applicants have is whether there are any financial benefits associated with the program. This article explores this question in depth, looking at what types of financial support are available to Alpha participants.
The first type of financial benefit available to Alpha startups is access to venture capital and other sources of funding, such as angel investors. By participating in the program, startups will be able to network with potential investors, which can result in investments in their business. Additionally, the program provides seed funding for up to 10 startups each year. This allows them to get their ideas off the ground and start developing their product or service without having to worry about running out of funds.
Finally, Alpha participants also receive mentorship from experienced industry professionals who can provide valuable advice on how best to grow their business. Mentors provide guidance on marketing strategies, product development, and handling legal matters, among other topics related to launching a successful startup. Moreover, participants are provided with an exclusive platform where they can showcase their product or service directly to potential customers and partners. All of these benefits combined make it an attractive proposition for early-stage companies looking for additional resources and support from experienced professionals.
Are There Any Networking Opportunities Available To Alpha Program Participants?
The program offers both virtual and in-person events where participants can mix and mingle with some of the top minds in their fields. Attendees have access to exclusive workshops, talks, and panels designed to help them build their networks and create meaningful relationships. They also have the chance to meet potential investors, mentors, and partners who could be instrumental in helping them grow their business.
Participants will also benefit from connecting with other startups attending the conference. It's a great chance to find out what others in similar situations are doing – what strategies they've found successful or how they've overcome common challenges. Through these connections, it's possible for attendees to find fresh ideas, gain insights into industry trends, or even form collaborative partnerships that could lead to long-term success.
The Alpha program provides an invaluable platform for entrepreneurs looking to make meaningful connections with other like-minded people in the industry. With its wide range of events tailored towards fostering relationships between attendees, it's no wonder that the conference has become such an important event for startups around the world.
Are There Any Other Qualifications That Leadbright Needs To Meet In Order To Participate In The Program?
Being accepted into an alpha program can be an incredible opportunity for any startup. But to ensure that the program is a success, there are certain qualifications that need to be met by the participants. This brings up the question of whether Leadbright needs to meet any additional requirements in order to take part in the Collision Conference 2023 Alpha Startup Program.
Leadbright must demonstrate that it has a clear focus and strategy for its startup and that it is committed to achieving its business goals. It also must show evidence of strong financial management and have a plan in place for long-term sustainability. In addition, Leadbright must be able to prove that it has a team with the experience and skills necessary to execute its vision successfully.
Leadbright should also have access to resources and networks in order to maximize its potential within the Alpha Program, including mentorships, funding sources and partners who can support its growth. In addition, Leadbright should have experience in developing successful marketing campaigns, as well as an understanding of customer service protocols. The team should also be prepared to showcase their product or service at the conferences and other events associated with the program.
Finally, Leadbright's commitment to innovation should be evident throughout its application process. This includes demonstrating its willingness to take risks on new ideas and displaying a passion for problem solving and creative thinking. All of these elements combined will create a strong foundation for Leadbright's participation in this program and help ensure success once they are accepted into it.
Conclusion
The selection of Leadbright to the Collision Conference 2023 Alpha Startup Program is an exciting development for our company. We are grateful for this opportunity and look forward to learning from the best minds in the industry.
We are also thrilled to be joining other esteemed conferences as well. This will allow us to network with potential partners and build relationships with key players in our industry. Furthermore, being part of the Alpha Program may provide financial benefits that can help us grow our business further.
Finally, we are confident that Leadbright meets all the qualifications needed to participate in the program. We are excited to learn more about what this program has to offer, and we look forward to a successful experience at Collision Conference 2023!
See you there!